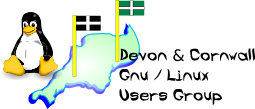 [ Date Index ] [ Thread Index ] [ <= Previous by date / thread ] [ Next by date / thread => ]
Re: [LUG] MAc address changing was Re: MAC address on Android
---

On 13 Jan 2014 22:32, "Gordon Henderson" <gordon+lug@xxxxxxxxxx> wrote:
>
> On Mon, 13 Jan 2014, Tom wrote:
>
>> In the early days your MAC address was hardwired into the 'ethernet' card by the manufacturer.
>
>
> Having had 1st hand experience of this ... (admittedly this was 25 years ago though)... Both allocating MACs for a company that had its own prefix (the first 3 bytes) and writing the driver...
>
> An Ethernet card would have a PROM of some sorts on it "hardwiring" it to the card - so that the operating system would then read and use in all subsequent transactions. It was maintained in RAM after that. Nothing other than a "gentlemans agreement" to stop the OS changing it...
>
> Conceivably there may now be systems with the MAC "fixed" into the hardware - I suspect these are the sort of cards that have TCP offload engines on the card or other microcontrollers to assist with the data flow, however I suspect that even these can be altered.
>
You can get cards that handle all the Layer 2 stuff themselves rather than allowing the OS to handle the upper half. They're usually a fair bit more expensive than your average card, advertised as 'low latency' cards.
> Sun 4's were no different - they had a PROM that was read by the firmware (in Forth) as well as a unique "hostid" that was used in various license servers - latterly they just used the MAC, however it was changeable - especially on the boards I wrote the boot code for... But again it was just held in RAM by the OS once it was loaded, so changable.
>
> If you want to change the MAC on your Linux pc, simply become root then
>
>   ifconfig eth0 hw ether aa:bb:cc:dd:ee:ff
>
> where aa:bb... is the new MAC address. If you want to play, then you can freely use 00:00:fc:x.y.z if you like - I can guarantee that you will never see that prefix in the wild. (and if you do, please let me know ;-)
>
> Gordon
Interesting. Thanks - I might just use one of those for my HP laptop's irritating nForce Ethernet.
Grant
-- 
The Mailing List for the Devon & Cornwall LUG
http://mailman.dclug.org.uk/listinfo/list
FAQ: http://www.dcglug.org.uk/listfaq

---