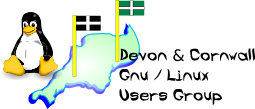 [ Date Index ] [ Thread Index ] [ <= Previous by date / thread ] [ Next by date / thread => ]
Re: [LUG] Sharing movies and photos
Subject: Re: [LUG] Sharing movies and photos
From: Simon Avery <digdilem@xxxxxxxxx>
Date: Sat, 4 Jan 2014 13:16:48 +0000
Delivered-to: dclug@xxxxxxxxxxxxxxxxxxxxx
Dkim-signature: v=1; a=rsa-sha256; c=relaxed/relaxed; d=gmail.com; s=20120113; h=mime-version:in-reply-to:references:date:message-id:subject:from:to :content-type; bh=ScMRIk1fdjBV2kV9mm8u2FjvSrIBijFzfDRXp9UDP9o=; b=OT5ig5lZe+JwcRlRPuDRnb2FxheYDEmN+xRT/dQrCCkkMXVveQO6L7weKtFBBNdp6i amFEHnLGuVS7qtKf6Nf+a9AGSOpwj+VlNrR0gJi0uVjKM+1sw7cMacWI7Spy+XokAox7 R0Z2RrqjidcFqxmaEzBsaZgDlS5Mv7Gu0fOLkmvQ5OoZxSi85Hxnz/VDZeEnav2gOMo9 tOCjZwXVPWg29J5k+CBPKRQMW0mWcjBaKBIAWlE/snC9rl+PG8NieZakQIgO/0QiZHVx rNQuqyEDBOymAxUB71+jN4gCEb69PTEFXGqLUIAvSnoOgn8YiMUjmJXAyyjxjWfnC2Rh YL+A==
---
Hi Richard,


The "normal" way to share files such as movies, mp3s or photos is to simply share a directory using samba (smb/cifs), so that it can be seen by your target machines. If both machines are linux, NFS can be used as well (and over windows, but it's faff and IME not that reliable).
You can also stream movies directly from it using DLNA and similar technologies to players on other machines, such as smart TVs.
You wouldn't normally do this over SSH unless you had a specific cause to (tunelling or encryption springs to mind)
Myself: I have Movies and tv recordings on a directory called /tv on my home server. That's exported via samba to my home network. My desktop and laptops running windows just access a mapped network share and there they are. (Also works for linux).   For my big TV I have a "popcorn hour" device that reads the same share and puts it to the TV at 1080p.
Exactly the same can work with images (and I do that also) - with clients have read and write permissions.
I'm afraid I don't know whether software exists to automatically load images off an sd card as you want - as I do it from windows desktops, but *probably*. Hopefully someone else can suggest something.
-- 
The Mailing List for the Devon & Cornwall LUG
http://mailman.dclug.org.uk/listinfo/list
FAQ: http://www.dcglug.org.uk/listfaq

---