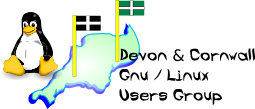 [ Date Index ] [ Thread Index ] [ <= Previous by date / thread ] [ Next by date / thread => ]
Re: [LUG] Meeting in south east Cornwall
To: dclug <list@xxxxxxxxxxxxx>
Subject: Re: [LUG] Meeting in south east Cornwall
From: daniel Phillips <danielphillips50@xxxxxxxxx>
Date: Fri, 8 Nov 2013 17:57:56 +0000
Delivered-to: dclug@xxxxxxxxxxxxxxxxxxxxx
Dkim-signature: v=1; a=rsa-sha256; c=relaxed/relaxed; d=gmail.com; s=20120113; h=mime-version:in-reply-to:references:date:message-id:subject:from:to :content-type; bh=fcTMDm0CTjDSuX4hMJP8VGZVCFNzAK3VkbCTTw3UhxU=; b=trwDUIiReOqfowkx3ZEqk+5BGeVE1P+psTPRwE/4OciQkNWIAjcuD1Aob357xO9CP5 b5aQEh0LAunxdpr9DWmQVBcg4Gb+g789+2iPi1ob1RGXRlOcWatWGA44qHOI/xr714aH sqODcUn00XvpCBXYfvlrtYfhVm094h4Mnk6cw6i7bhm+dQ2NUCRNuxDEnZ+kIdVoSGn5 XYP5yF6HUfYFZhoX5sp7+hdpPhdiyYD0ZBh2fV8n0kLb8ytlvyAzs2lH5l93RUO0NFYj 2D19jZ6rO1kUC6MRWlyXA51J2uHGG4wdtZQJ858tH4ZH7OKBgCfSqgM4mnPZRZnZ3HIF GNVQ==
---
Thanks for the reply Steve, 
I'm not too sure yet if we can get power to the box, so may have to go for the model A Pi. the camera would have to be motion sensored and also have night vision capabilities as Owl's are nocturnal. Recording would be a good option as we could play it back on screens inside the cafe. I think the box will be in wifi range of the cafe so i'm hoping that we could get a live feed and if possible maybe set up a web page so people could view from their homes. I will look in to weather proofing as maker is quite an exposed site, some say it has it's own micro-climate. I did read some where that you could power a Pi over the ethernet connection, although i feel this is not a good option due to cable laying around the site.
It would be great if a few people could meet up here sometime and help/contribute to our local community project. It would make a great day out for the family aswell with local parks, villages and beaches for walks etc etc.
thanks for the reply
Daniel
-- 
The Mailing List for the Devon & Cornwall LUG
http://mailman.dclug.org.uk/listinfo/list
FAQ: http://www.dcglug.org.uk/listfaq

---