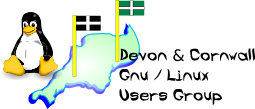 [ Date Index ] [ Thread Index ] [ <= Previous by date / thread ] [ Next by date / thread => ]
Re: [LUG] Controversial ?
---

On 02/05/12 13:02, Gordon Henderson wrote:


On Wed, 2 May 2012, Roland Tarver wrote:




On 28/04/12 17:30, paul sutton wrote:



On 28/04/12 14:32, Grant Phillips-Sewell wrote:




I've been toying with the idea of setting up a PlymLUG (or PLUG) for a
while. It would essentially, for me, be a local extension of the
DCGLUG rather than supplanting it.

Grant.




perhaps the dclug has grown too large,






Sorry Paul but I am afraid I am going to have to disagree with that statement. I don't think the DClug has grown too large - quite the opposite in fact. What are there? 220 members over all of Devon and Cornwall. Far from large enough to my mind?





And there are a dozen regular contributors and less than that at the meetings )-:





I think that the DClug is effective over a wide geographical area - largely due to this mailing list. At a local level (read face2face) the DClug will naturally have varying degrees of success, largely based on the number of members in that area and the motivation of such members. For example, Rick in Exeter and Grant in Plymouth.






A lot of lugs around the country have regular talks and do
things on a really local level.




And what stops DClug members from doing exactly this right now?






Apathy. General lazyness and the overly laid-back attitude of Devon and Cornwallshires...





At least that's my view on it - and after last weekend in Manchester, I've had my eyes well and truly opened to the possibilities.





However geographic size is a real issue here and a rubbish public transport system doesn't help either - however there are buses and trains, and if you live on Dartmoor then you need a car or other independant transport, so it really shouldn't be that hard.





Devon has about a million people living in it. So has greater Bristol. 60 Bristols would fit into Devon.



Gordon


Its not just travel time its empty time - you can travel across Bristol in 20 minutes and pass a hundred places you would want to call into. I could get to Bristol in two hours and then not have time to do anything else with the travel because I have to get back before the hounds are released. Its not really apathy - it takes considerably more effort for us to meet in the middle of Devon whereas in Manchester you can just pop out and get a loaf and system re-install.

Tom te tom te tom

--
The Mailing List for the Devon & Cornwall LUG
http://mailman.dclug.org.uk/listinfo/list
FAQ: http://www.dcglug.org.uk/listfaq


---