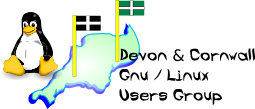 [ Date Index ] [ Thread Index ] [ <= Previous by date / thread ] [ Next by date / thread => ]
Re: [LUG] Gnome "tuning"
Subject: Re: [LUG] Gnome "tuning"
From: Dan Dart <dandart@xxxxxxxxxxxxxx>
Date: Wed, 7 Sep 2011 09:49:36 +0100
Delivered-to: dclug@xxxxxxxxxxxxxxxxxxxxx
Dkim-signature: v=1; a=rsa-sha256; c=relaxed/relaxed; d=googlemail.com; s=gamma; h=mime-version:in-reply-to:references:date:message-id:subject:from:to :content-type; bh=0JyjRRedSge68f5RSYDZbeQswp2X4bSs9Ne2RMaIWJg=; b=FYpBTAt4FIat2Ne96E56q9ceyC7N0LckD3gx9O8IcfmvHIqtOHJ38GN1o0pAxGXFoA Dnz05ecsF6w14n1Uvin8MPEUTzy84oamxd3wIocNE55VBaCOi7jZSThD1tcb0+sHXJ7e JbdCB1ZeAhhCwdG+Ato6lAk1gMGCrQY+c2PEY=
---
Bleh. I use google talk, sure it's not free but it isn't owned by ms...
But really, what's open and works without nat screwing and preferably compatible?
-- 
The Mailing List for the Devon & Cornwall LUG
http://mailman.dclug.org.uk/listinfo/list
FAQ: http://www.dcglug.org.uk/listfaq

---