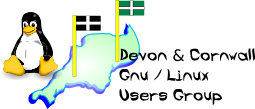 [ Date Index ] [ Thread Index ] [ <= Previous by date / thread ] [ Next by date / thread => ]
Re: [LUG] Ubuntu training for newbies
Subject: Re: [LUG] Ubuntu training for newbies
From: John Hansen <whitover@xxxxxxxxxxxxxx>
Date: Sat, 24 Apr 2010 11:17:16 +0100
Delivered-to: dclug@xxxxxxxxxxxxxxxxxxxxx
Dkim-signature: v=1; a=rsa-sha256; c=relaxed/relaxed; d=btinternet.com; s=s1024; t=1272104223; bh=q41ZZi95tFT4Fz4dxoiwK16790DahvsqsvuyXiKrZnM=; h=Received:X-Yahoo-SMTP:X-YMail-OSG:X-Yahoo-Newman-Property:Message-ID:Date:From:User-Agent:MIME-Version:To:Subject:References:In-Reply-To:Content-Type:Content-Transfer-Encoding; b=YPGMF+kAeqkVMYqnXzT1O8Q/k0bJeDJznVdHL9ke0FzEHSI8XkS/EwluU/XMdI68lcQB7PRJXrbviPyy7TD7EyAIMwgMOYDxg8TeLWBgiNfkoiUPizuY2IKKo2lIjZcXA5LMDOIx+k85uSPYwzhYYvcfn6L+2/SDDnI4Eq8TRK8=
---

On 24/04/2010 11:08, Neil Winchurst wrote:


Rob Beard wrote:



Hi Viv,

That's great, I'm sure he would be able to get to Torquay okay, he does
drive (in fact he's popping over to pick up my youngest this morning).

Do you have any idea of how much you'd charge?

At the moment he's a relative newbie, he knows how to turn the laptop on
(and shut it down) and open Firefox, I believe he also now has a hotmail
e-mail address and can send/receieve e-mails with Hotmail.

I expect he'll need a bit of training on the Internet, I'm not sure how
in-depth the training he has already had was, and he has a digital
camera so I would guess probably something like being shown how to
import photos from his camera to his laptop and then maybe how to save
them on to CD/DVD.

If it helps he's running Ubuntu 9.10.  I was thinking of maybe upgrading
him to 10.04 LTS but setting the theme back to one of the older style
themes (as in Ubuntu 9.10, as the new 10.04 theme has even thrown me a
bit).

Rob





I have just started organising meetings in Holsworthy (next one 8th
May). One of the topics I plan to bring up is this business of training
for new converts to Linux. If we really hope to get people to use it we
must be prepared to train them and to be available for help afterwards.
This really means having trainers in various places around our area.

I am sure there is enough expertise around Holsworthy to set something
up. Incidentally I used to do computer training back in my BL (before
Linux) days. I am looking forward to the next meeting here, to see what
others think of this whole subject.

Neil



Neil,


I think a training meeting in Holsworthy would suit me well. See you on 8 May DV.


Kind regards


John W

--
The Mailing List for the Devon & Cornwall LUG
http://mailman.dclug.org.uk/listinfo/list
FAQ: http://www.dcglug.org.uk/linux_adm/list-faq.html


---