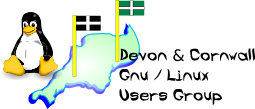 [ Date Index ] [ Thread Index ] [ <= Previous by date / thread ] [ Next by date / thread => ]
Re: [LUG] OT: Windows 7 is FREE (according to Dell)
---

NW wrote:


Roland Tarver wrote:



On Thu, Mar 18, 2010 at 6:23 PM, Rob Beard <rob@xxxxxxxxxxxxx> wrote:



Hi folks,

According to Dell, Windows 7 is now free.  At least that's what they told a
customer when they tried to get a refund.

http://www.theregister.co.uk/2010/03/18/dell_windows_7_free/

Rob



I wish I had thought of that when I bought my 2 machines last year.
Next time I will! Haha!
Best wishes
Roly




In this country, UK, you can buy a laptop from the Linux Emporium which
has Linux pre-installed and no sign of Windows. That way there is no
need to bother with the hassle of trying to get a refund.

Neil

From what I've seen though they are very expensive, or it could be down to the specifications of the machines they are selling. Cheapest laptop is about £580 (okay the spec is fairly reasonable, but overkill for say my mum and step-dad who have just bought a laptop). Considering the Windows refund is only usually about £30 to £50 it's a bit of a premium to pay.
On the other hand, Novatech have got a laptop for £319.99 inc VAT with no operating system. Has AMD Athlon X2 TK-42 (1.6GHz) CPU, ATI Radeon X1200 graphics, 250GB Hard drive, DVD-RW, 2GB Ram.
I've heard good things about Novatech, the machines I've used from Novatech however haven't been that great BUT that could be down to the fact that they weren't looked after properly and had broken cases and chunks missing out of them. I'm sure if they were looked after (as with any notebook) they'd work well.


Rob


--
The Mailing List for the Devon & Cornwall LUG
http://mailman.dclug.org.uk/listinfo/list
FAQ: http://www.dcglug.org.uk/linux_adm/list-faq.html


---