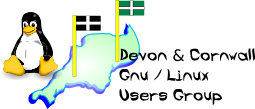 [ Date Index ] [ Thread Index ] [ <= Previous by date / thread ] [ Next by date / thread => ]
Re: [LUG] Interesting Linux info
---

Quoting Gordon Henderson <gordon+dcglug@xxxxxxxxxx>:



On Thu, 14 Jan 2010, tom wrote:




Gordon Henderson wrote:



On Wed, 13 Jan 2010, Grant Sewell wrote:




On Wed, 13 Jan 2010 21:27:18 -0600
T Brownen wrote:




http://www.linuxfordevices.com/c/a/Linux-For-Devices-Articles/Linux-Mobile-Phones/




Wow!  That's quite a comprehensive list!




Still only one I want though - the one "true" Linux phone, the N900...

But it looks like there's more than just Andriod now too..

Gordon



Dont want a moblie phone. Want a pocket sized psion type device that can do phone/3g as well. Why should my voice coms be separate from my other coms - other than to make money for people selling me yet another crippled computer.



So get one then - what do you think the items on that that list are?


I was going to say, my Nokia e63, while not perfect does a reasonable job as a PDA, I can keep my contacts and calendars on there, SSH into servers with Putty, browse the net (albeit aquardly as it's not a great browser) but it does do everything I want it to pretty much, and if there is anything I need then chances are there is a Symbian app available.

Thats all these phones/e-readers etc are - crippled computers.






Having root access and gcc on a Nokia N900 hadly makes it crippled in my book.






Isn't the N900 the one that runs Linux based on Debian?


A friend of mine has just got an N900, not sure how much he paid for it, I'm guessing it's a contract phone.
I'm just hoping that in 12 months or so when my contract is up for renewal I'll be able to afford an N900 (or Android phone) on contract.
I keep telling myself though that I will not buy an iPhone, now that's crippled unless you jailbreak it.


Rob




--
The Mailing List for the Devon & Cornwall LUG
http://mailman.dclug.org.uk/listinfo/list
FAQ: http://www.dcglug.org.uk/linux_adm/list-faq.html


---