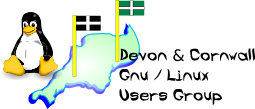 [ Date Index ] [ Thread Index ] [ <= Previous by date / thread ] [ Next by date / thread => ]
Re: [LUG] Request for assistance regarding modems
To: Devon/Cornwall GNU LUG <list@xxxxxxxxxxxxx>
Subject: Re: [LUG] Request for assistance regarding modems
From: Gordon Henderson <gordon+dcglug@xxxxxxxxxx>
Date: Tue, 27 Oct 2009 19:57:19 +0000 (GMT)
Distribution: world
---

On Tue, 27 Oct 2009, Simon Williams wrote:



Max Siegieda wrote:


Hello there everyone! I'm currently sat in the middle of a predicament and i'm wondering if anyone here can help, my problem is as follows:



    * My old modem/router combo doesn't support ADSL2+, we have recently
      switched to one of these shiny connections
    * We bought a router thinking this would solve the problem (Linksys
      WRT54GL) however we forgot the modem
    * I now require a modem (without the router, just the modem) that
      supports ADSL2+ and ideally Annex M, they seem to be hard to find

Any help with the finding of such a modem would be appreciated.






Most ADSL hardware sucks. Don't be cheap on this one. I've tried it and it's not worth it. Just go and by a Draytek Vigor 120 or similar. They're not cheap (about 50 pounds on ebay), but it's worth it.


They're £50 new from e.g.

http://www.broadbandbuyer.co.uk/Shop/ShopDetail.asp?ProductID=7898


I am a Draytek reseller - I'll lookup the price in a bit, but James May is on telly in a few minutes.. Might be a bit cheaper.
Not sure why you're looking for Annex M - I think only LLU operators (and then just Be?) support it... Things may have changed though, but the Draytek supports Annex M to give slightly faster uplink speeds.


Gordon
-- 
The Mailing List for the Devon & Cornwall LUG
http://mailman.dclug.org.uk/listinfo/list
FAQ: http://www.dcglug.org.uk/linux_adm/list-faq.html

---