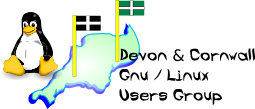 [ Date Index ] [ Thread Index ] [ <= Previous by date / thread ] [ Next by date / thread => ]
Re: [LUG] Acer Aspire One - Dead, but fixable ...
Subject: Re: [LUG] Acer Aspire One - Dead, but fixable ...
From: Rob Beard <rob@xxxxxxxxxxxxx>
Date: Fri, 23 Oct 2009 10:25:13 +0100
---

Gordon Henderson wrote:





My AAO died the other day - a mechanical issue to do with the power connector - so it works, but I can't plug in the power lead to charge it!




Oh joy, a friend of mine had the same sort of thing one one of his laptops (a Toshiba). He asked me if I could fix it but my soldering skills were, how can I say next to useless. I really must take the time to learn how to do soldering properly (since I have a couple of things which need soldering). IIRC my friend was quoted about £70 for the repair but decided to buy a new laptop instead. Guess though if you can solder it's probably not such a bad job.
Have taken it to bits - followed some video I found on the interweb and it's now in several large bits and lots of small screws... The clever bit was using a credit card to pop the case apart rather than lever it with a big screwdriver - doesn't leave any marks that way!





That's a good tip, I'll try and remember that one.

One discovery - there is a SODIM socket under the motherboard - I can upgrade the RAM from 512MB to a GB or so, and I may well do that, although that would mean waiting until Monday to get the bit.. Hmmm.. According to the video I watched, it's also possible to fit an internal bluetooth module, but I've never really needed that, so will give it a miss. There is also space on the motherboard for a sim-card reader and a GSM device with a slot in the back behind the battery to push the SIM card through - internal mobile-data laptop, anyone?




I could see the benefit of that. It's amazing what you can actually fit inside. I've seen hacks of the EeePC online where folks put all sorts of things in there (I think it was things like Bluetooth, 3G modem etc). I'm surprised though that they didn't include a flap on the bottom of the casing to fit extra memory. Saying that though, I've seen laptops that you have to strip down loads to get to things like the memory and CPU.
The power connector on the motherboard has broken - the bit which holds the central pin is the broken part, so some superglue and solder will fix it back, hopefully.
I'm always worried about this happening to my Acer, almost as much as my youngest breaking the screen (she's got a habit of picking up my laptop, sitting it on her lap and either bashing it or dropping it off the sofa).


Rob


--
The Mailing List for the Devon & Cornwall LUG
http://mailman.dclug.org.uk/listinfo/list
FAQ: http://www.dcglug.org.uk/linux_adm/list-faq.html




---