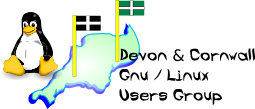 [ Date Index ] [ Thread Index ] [ <= Previous by date / thread ] [ Next by date / thread => ]
Re: [LUG] 64 bit Linux.
---
JOHN DAVEY wrote:
> OK, I find myself with a 64 bit motherboard. What's the general
> consensus on the best distro for 64 bit here?
> I have googled it but most of the links were to forums with fairly
> uninformative discussions.
> Cheers, Jon.

You can get ubuntu for 64 bit, as well as other distributions i think
the software available is the same
I think you hit issues with propriatory software.
Paul
- --
Paul Sutton

OK, Thanks Paul and Andy. I use Ubuntu but I'm still having problems with the install. I posted this problem here before but then solved it buy, ironicaly, installing it by using windows. Like I said before I can boot into the live CD...well actually I can't boot into anything other than the live part of the CD. Even when I choose to install the system to myy harddrive I still get booted into the live session and the install option on the desktop there will then do an install that always drops me into a command line session. Busybox I think someone identified it as.

Really sorry to have to ask the same thing again but why the hell can't I install Ubuntu ? I will have a look at the dcglug archives myself to review the answers I got on this the last time I asked aswell.....

Jon.
-- 
The Mailing List for the Devon & Cornwall LUG
http://mailman.dclug.org.uk/listinfo/list
FAQ: http://www.dcglug.org.uk/linux_adm/list-faq.html

---