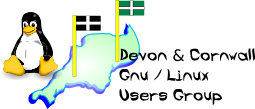 [ Date Index ] [ Thread Index ] [ <= Previous by date / thread ] [ Next by date / thread => ]
Re: [LUG] Boot Problem
Subject: Re: [LUG] Boot Problem
From: "Ben Goodger" <goodgerster@xxxxxxxxx>
Date: Wed, 31 Jan 2007 13:53:01 +0000
---
On 31/01/07, Peter Lloyd-Jones <peter@xxxxxxxxxxxxxxxxxxxx> wrote:
Hi

At our last meeting I mentioned that I could not boot off my first drive
anymore.

The message I get is:

Booting 'linux (on /dev/hda1)'
root (hd0,0)
Filesystem type is ext2fs, partition type 0x83
kernel /boot/vmlinux root = /dev/hda1 ro acpi = ht resume = /dev/hda5 splash =
silent
Error 24: Attempting to acess block outside partition

What does RO do?
What does Resume do and do you need it?
I don't have any of these, on my Ubuntu system.

Have you checked your disk label, partition integrity and GRUB installation?



--
Ben Goodger
#391382
---------------------

Mi admiras religiajn; ili estas fine ebliĝinta solvi la maljunegan demandon "kiel oni povas vivi sencerbe?".
It is well-known that I am blunt and unsophisticated. It's largely your fault if you object to this.
-- 
The Mailing List for the Devon & Cornwall LUG
http://mailman.dclug.org.uk/listinfo/list
FAQ: http://www.dcglug.org.uk/linux_adm/list-faq.html

---