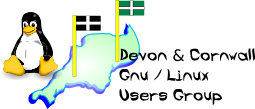 [ Date Index ] [ Thread Index ] [ <= Previous by date / thread ] [ Next by date / thread => ]
Re: [LUG] PDF's and the paperless office - well NVU really
Subject: Re: [LUG] PDF's and the paperless office - well NVU really
From: "Ben Goodger" <goodgerster@xxxxxxxxx>
Date: Sun, 7 Jan 2007 13:27:59 +0000
---
On 07/01/07, Tom Potts <tompotts@xxxxxxxxxxxxxxxxxxxx> wrote:
As for NVU - well its not too bad but needs some work, but you can cobble
together stuff relatively easily. It needs a few more TAGs adding but you can
edit the html and it doesn't seem to tear it apart or add useless metadata.
Not sure about the templates but thats next...

Real (X)HTML programmers use Bluefish!



--
Ben Goodger
#391382
---------------------

Mi admiras religiajn; ili estas fine ebliĝinta solvi la maljunegan demandon "kiel oni povas vivi sencerbe?".
It is well-known that I am blunt and unsophisticated. It's largely your fault if you object to this.
-- 
The Mailing List for the Devon & Cornwall LUG
http://mailman.dclug.org.uk/listinfo/list
FAQ: http://www.dcglug.org.uk/linux_adm/list-faq.html

---