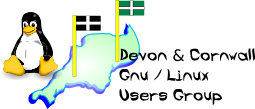 [ Date Index ] [ Thread Index ] [ <= Previous by date / thread ] [ Next by date / thread => ]
Re: [LUG] yet another reason to avoid pointless pdfs
Subject: Re: [LUG] yet another reason to avoid pointless pdfs
From: Simon Waters <simon@xxxxxxxxxxxxxx>
Date: Sun, 07 Jan 2007 12:02:29 +0000
Openpgp: id=8F455606
---
Aaron Trevena wrote:
> 
> know that it will look identical whether I open it in xpdf or somebody
> else uses acroread, regardless of platform.

But PDF documents look different in different readers ?!

Indeed PDF documents looked different in readers at the same version
from Adobe on different platforms.



Attachment: signature.asc
Description: OpenPGP digital signature
-- 
The Mailing List for the Devon & Cornwall LUG
http://mailman.dclug.org.uk/listinfo/list
FAQ: http://www.dcglug.org.uk/linux_adm/list-faq.html

---