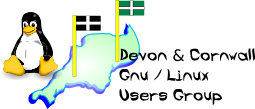 [ Date Index ] [ Thread Index ] [ <= Previous by date / thread ] [ Next by date / thread => ]
[LUG] Generic plea for installation help (Gentoo & Ubuntu)
---
Hello

I appear, as usual, to have completely fecked my Gentoo installation. If anyone can give me some help with it in a few days that'd be lovely - it concerns X and such...
Also, I am becoming increasingly frustrated with Ubuntu. The partitioners on the "desktop" discs (x86) for Dapper, Edgy and Feisty both show only empty space on sda, although the fstab-gui bit shows all my partitions. Unfortunately, whatever I try, I am then told "no root filesystem" when installing. In Feisty's "alternate" ( i.e. non-patronising installer) version, this happens also (I lack alternate discs for Edgy or Dapper.) So how do I fix my partition table so that gparted can see it? I presume this is the cause of the problem...

Happy Patronisingly-Secular Winter Festival Time!!!
or, Merry Christmas!

--
Ben Goodger
#391382
---------------------

Mi admiras religiajn; ili estas fine ebliĝinta solvi la maljunegan demandon "kiel oni povas vivi sencerbe?".
It is well-known that I am blunt and unsophisticated. It's largely your fault if you object to this.
-- 
The Mailing List for the Devon & Cornwall LUG
http://mailman.dclug.org.uk/listinfo/list
FAQ: http://www.dcglug.org.uk/linux_adm/list-faq.html

---