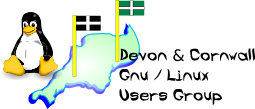 [ Date Index ] [ Thread Index ] [ <= Previous by date / thread ] [ Next by date / thread => ]
Re: [LUG] Things which annoy me - scrollwheel, num lock, flash plugin, X
Subject: Re: [LUG] Things which annoy me - scrollwheel, num lock, flash plugin, X
From: "Ben Goodger" <goodgerster@xxxxxxxxx>
Date: Wed, 5 Jul 2006 12:31:15 +0100
---
On 05/07/06, Kai Hendry <hendry@xxxxxxxxxxxxxxx> wrote:
On 2006-07-04T23:40+0100 Ben Goodger wrote:
> 2. Why does scrolling upward in Firefox result in going back randomly? (USB
> mouse)

I've noticed this problem myself on a IBM Think centre. Let us know how
you fixed it.

> 3. Why does Flash have such poor audio control which more often than not
> results in it being completely silenced, fixed only by restarting ALSA?
> (firefox)

Flash is a crappy proprietary multimedia app that's 2 versions behind
the windows one and probably doesn't use native ALSA, otherwise you
wouldn't have to restart it.

Incorrect, it is only one version behind the windows one.

Investigate canvas and SVG in Opera or Firefox if you need to see
animated graphics in your browser.

No. Why do all FreeSoftware™ zealots tell everyone to do this? I am NOT going to remove Flash and I am NOT going to stop using it. I just wanted to know how to make it work. Nobody will listen to you if you just say "despite the fact that nearly everyone uses it, it's proprietary so you shouldn't access flash content."

> 8. Why, indeed, does X require me to enter these to get the thing working at
> all? Is there something stopping it from achieving basic levels of
> user-friendliness which were reached by Microsoft eleven years ago or more,
> and Apple a good time before that?

X is horrible. Live with it, until someone is brave enough to come up
with simpler graphics server and get Firefox etc. running on it.

I've found Knoppix good at guessing my X settings.

Ubuntu can do so also, but it also gives refresh rates of 60Hz.

> If anyone has anything to contribute to my de-irritation, that'd be much
> appreciated.
> I do like the flying toaster screensaver in Dapper though.

Have a minimal desktop and use a screened uxterm where possible when X
crashes. Avoid anything proprietary. Though Opera's native session
saver is handy to recover from.

You don't get it, do you? X doesn't crash, I'm not going to switch to Fluxbox or whatever you think is good this millenium, proprietary software is vital for me, and I have almost zero interest in learning the console beyond the locations of sources.list and xorg.conf.


All I wanted to know is why these things happen and how to fix them, if possible. The post above yours was useful; yours was exactly like Neil thingybob would chuck out if he had absolutely no self-control. This kind of Freedom To The Point Of Restrcting Users' Freedom is what continues to give Linux a bad name.


--
Ben Goodger
#391382
-- 
The Mailing List for the Devon & Cornwall LUG
http://mailman.dclug.org.uk/listinfo/list
FAQ: http://www.dcglug.org.uk/linux_adm/list-faq.html

---