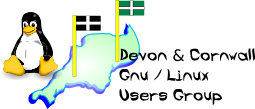 [ Date Index ] [ Thread Index ] [ <= Previous by date / thread ] [ Next by date / thread => ]
Re: [LUG] Meeting this saturday
---

Tony Sumner wrote:



A couple of years ago I got wireless working in my house in Reading and
I was so pleased with that stupendous achievement that I wrote an Impress
presentation (slide show) explaining it. I offered to show it to the
Reading User Group but they turned it down ('noone interested in wireless
any more'). I've mailed the file to Robin in case he finds it useful to
peg a talk onto (and use the mistakes to illustrate his points). It's a
bit outdated of course (the 2.6 kernel has wireless drivers) but mostly
ok.

Tony Sumner
scribe. FAQ: www.dcglug.org.uk/linux_adm/list-faq.html

I'd be interested in the mesh networking (locustworld?). I looked into a little bit when I was living in Derby, some of the Derby LUG members were trying to setup a wireless mesh network in some parts of Derby.


Rob


--
The Mailing List for the Devon & Cornwall LUG
Mail majordomo@xxxxxxxxxxxxx with "unsubscribe list" in the
message body to unsubscribe. FAQ: www.dcglug.org.uk/linux_adm/list-faq.html




---