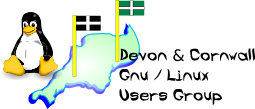 [ Date Index ] [ Thread Index ] [ <= Previous by date / thread ] [ Next by date / thread => ]
Re: Broadband Blaster Was: [LUG] Transplanting hard drives
Subject: Re: Broadband Blaster Was: [LUG] Transplanting hard drives
From: David Bell <edos@xxxxxxxxxxxxxxxxxxxxxxxx>
Date: Mon, 24 Jan 2005 17:30:47 +0000
Content-disposition: inline
---
On Monday 24 January 2005 17:01, Neil Williams wrote:


This is probably where you are having problems with apt. Make sure you can
FTP to a server because FTP needs 21 to connect but uses higher ports for
transmission.


No problems with this particular modem,  apt works perfectly, it was just my 
worry that it wasn't secure -  according to pcflank.  In fact I did a 
successful deb sarge net-install with it onto this laptop yesterday. 


Basically, GuardDog should allow connections from anywhere on the internet
using port 20 (ftp-data) to your IP via ports from 1024 to 5999, otherwise
FTP (and apt if you've set it to ftp) will fail.



Guarddog seems to be set up correctly as I can apt-get happily.  The GUI front 
end makes this easy.


Please don't do that, I've got too much on to pursue this much further,
that's why this is done via a list.



Sorry Neil,  was meant as a (GNU/Linux) compliment.

David

-- 
Hatherleigh
Devon
~~~~~~~~~~~~~~

--
The Mailing List for the Devon & Cornwall LUG
Mail majordomo@xxxxxxxxxxxx with "unsubscribe list" in the
message body to unsubscribe.



---