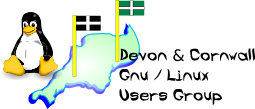 [ Date Index ] [ Thread Index ] [ <= Previous by date / thread ] [ Next by date / thread => ]
Re: [LUG] Wireless networking
---
-----BEGIN PGP SIGNED MESSAGE-----
Hash: SHA1
Julian Hall wrote:
|
| 1.  Comments on the best kit to buy please?
Pass, the built in print server has me beat.
| 2.  Wired networking in Linux = piece of... err.. cake.  Wireless, I
| don't know where I should start with the configuration, such as what
| modules I need to install, and from there upwards.
These days if the wireless modules are around, they generally load when
the PCMCIA card is found (or on boot if built in).
All you need to do is make sure that the wireless setting are in the
right place, Debian has moved them all to the /etc/network/interfaces
file, but I think Mandrake and Redhat still look for the settings in the
~ /etc/pcmcia/wireless.opts or similar, but I suspect both now provide a
GUI for setting them.
Basically you have to say what network "ESSID" (can use "ANY" here on
the clients for connecting to "anyone who'll have you") and what
encryption key if WEP is used. There are various complications as
regards whether the network is visible from outside, or connectable
without encryption, but whilst worth testing you aren't open (unless you
want to be) the defaults are usually sensible for most routers (once you
enable WEP). Sometimes you need to specify channels or speeds, but
generally this is all automagically done these days.
Once the wireless settings are correct (and the routers will show the
client is connected), it is just an ethernet network. It really looks
and feels like ethernet, because it is basically ethernet over microwave.
Your maximum range however maybe an issue - a good antenna each end
helps - but I expect you'll be okay in the house unless the walls are
very solid, or papered in aluminum foil, and/or chicken wire.
Main gotcha - get a supported card - and get one supported with proper
free software drivers, and a Linux friendly vendor - easy in 802.11b,
but the choice in 802.11g is rather more limited, and you'll want "g"
these days.
-----BEGIN PGP SIGNATURE-----
Comment: Using GnuPG with Thunderbird - http://enigmail.mozdev.org
iD8DBQFB4wDTGFXfHI9FVgYRAvmMAJ91/h3Vyz5FIXZBTV92qZ2YPrJCBQCffpCM
FvsQj4/5FWf2IX3Wpi4MGIg=
=mq7Y
-----END PGP SIGNATURE-----
--
The Mailing List for the Devon & Cornwall LUG
Mail majordomo@xxxxxxxxxxxx with "unsubscribe list" in the
message body to unsubscribe.
---