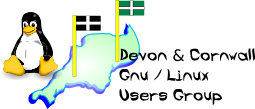 [ Date Index ] [ Thread Index ] [ <= Previous by date / thread ] [ Next by date / thread => ]
Re: [LUG] DVD Player
Subject: Re: [LUG] DVD Player
From: Julian Hall <linux@xxxxxxxxxxxx>
Date: Sun, 02 Jan 2005 17:46:05 +0000
---
Richard Brown wrote:
What in people's opinions is the best dvd player?

I use Totem, although Xine has a better GUI IMHO. I'm still finding, despite almost a year using Linux, that it's very much pot-luck which one I get to work first if I need to reinstall.
TurboLinux has PowerDVD as part of the package, which IMHO is the best s/w DVD player for Windows or Linux. Unfortunately Cyberlink have seen fit to only include it with Turbo Linux instead of releasing it as a commercial package for all the Linux variants. A bad move IMHO.
Kind regards,
Julian
--
The Mailing List for the Devon & Cornwall LUG
Mail majordomo@xxxxxxxxxxxx with "unsubscribe list" in the
message body to unsubscribe.
---