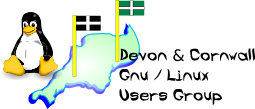 [ Date Index ] [ Thread Index ] [ <= Previous by date / thread ] [ Next by date / thread => ]
Re: [LUG] hardware: webcams (information)
Subject: Re: [LUG] hardware: webcams (information)
From: Adrian Midgley <amidgley2@xxxxxxxxxx>
Date: Fri, 17 Dec 2004 21:06:06 +0000
Content-disposition: inline
---
On Friday 17 December 2004 09:40, Rob Beard wrote:


I got two of these cameras the other day, and I was surprised that they are
currently on buy one get one free, well at least in the Exeter store they
are.



The Exeter store?  Is where please?
-- 
Adrian Midgley                   Open Source software is better
GP, Exeter                       http://www.defoam.net/
Why this sig:                    http://www.defoam.net/whysig.txt

--
The Mailing List for the Devon & Cornwall LUG
Mail majordomo@xxxxxxxxxxxx with "unsubscribe list" in the
message body to unsubscribe.



---