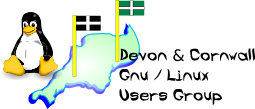 [ Date Index ] [ Thread Index ] [ <= Previous by date / thread ] [ Next by date / thread => ]
Re: [LUG] Re: What is/was your work desktop? was Re: [LUG} SIMS
Subject: Re: [LUG] Re: What is/was your work desktop? was Re: [LUG} SIMS
From: Rob Beard <rob@xxxxxxxxxxxxx>
Date: Wed, 8 Dec 2004 15:20:16 +0000
---
Quoting Kelly Jones <kellyjones@xxxxxxxxxxxxxxxxx>:


I am self employed so i don't have to conform to any stupid work
policies.  I run Fedora Core 3 on  my desktop / server but due to having
so many Windows users i run Windows XP pro, Windows server 2003 (domain
controller) and Windows 98 all simultaneously under VM Ware on the
aforementioned Linux box.  I have just picked up a cheap laptop and
currently dual boot XP Pro and Debian sarge (very impressed with Debian
by the way and once i have it setup just right, i will use this 99% of
the time on the laptop only booting into XP to test hardware etc)



Is Fedora Core 3 any good?  I was thinking about trying out Fedora Core 3 for 
AMD64.  Your idea of running Windows XP seems like a good one, I figured 
something like that would be easier than dual booting, only thing putting me 
off VMWare is the price tag :-(

Rob


--
The Mailing List for the Devon & Cornwall LUG
Mail majordomo@xxxxxxxxxxxx with "unsubscribe list" in the
message body to unsubscribe.



---