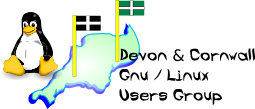 [ Date Index ] [ Thread Index ] [ <= Previous by date / thread ] [ Next by date / thread => ]
[LUG] Re: What is/was your work desktop? was Re: [LUG} SIMS
Subject: [LUG] Re: What is/was your work desktop? was Re: [LUG} SIMS
From: Tony Sumner <tony@xxxxxxxxxxxxxxx>
Date: Wed, 8 Dec 2004 12:24:55 +0000
Content-disposition: inline
---
When I was working at the University of Reading (10 years ago) the PCs
in the teaching rooms were re-booted every time anyone logged on (took
ages so if I had a class I had to get there 10 mins before to fire
them up) but the staff could do what they liked. Mostly they ran
Solaris (SunOS 5 at that time). Office staff had some form of MS and
kept their files in the central NFS file server. The policy at
Plymouth is appalling.

Tony Sumner

--
The Mailing List for the Devon & Cornwall LUG
Mail majordomo@xxxxxxxxxxxx with "unsubscribe list" in the
message body to unsubscribe.



---