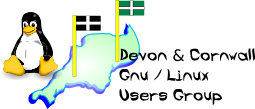 Devon & Cornwall Linux Users' Group
[ Date Index ][ Thread Index ]
[ <= Previous by date / thread ] [ Next by date / thread => ]
[LUG] Rosegarden
---
---
Can anyone offer advice on getting sound from rosegarden. 
Other sound apps are working including alsaplayer and alsamodularsynth. and I've 
turned up all alsomixer settings.  In rosegarden, However, under settings, 
sequencer, sequencer status it says- 'MIDI OK, no audio'
Grateful for any help
Aaron


-- 
______________________________________________
Check out the latest SMS services @ http://www.linuxmail.org 
This allows you to send and receive SMS through your mailbox.

Powered by Outblaze

--
The Mailing List for the Devon & Cornwall LUG
Mail majordomo@xxxxxxxxxxxx with "unsubscribe list" in the
message body to unsubscribe.



---
Lynx friendly