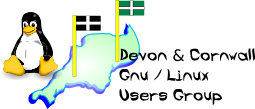 Devon & Cornwall Linux Users' Group
[ Date Index ][ Thread Index ]
[ <= Previous by date / thread ] [ Next by date / thread => ]
Re: [LUG] Magazines
---
---
Further to my previous mail, just checked and I have issues 1 - 13 and probably have the cd's to go with em,

Paul





Do you have a list of which ones? I know it's a bit sad, but I'm missing LXF 1-13, if they're in your collection :D




--
PAIGNTON RUGBY CLUB ARE LOOKING FOR SPONSORS.
Options include Ball, and match sponsorship, Team Sponsorship
and advertising banners which last the whole season (September - May 1st)
Please visit. www.paigntonrugby.co.uk - click sponsorship for details.
Linux -
Free your mind, save money, Use Linux and open source. Open source, don't get left in the dark ages, migrate now.
www.linux.org
--
The Mailing List for the Devon & Cornwall LUG
Mail majordomo@xxxxxxxxxxxx with "unsubscribe list" in the
message body to unsubscribe.
---
Lynx friendly