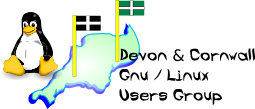 Devon & Cornwall Linux Users' Group
[ Date Index ][ Thread Index ]
[ <= Previous by date / thread ] [ Next by date / thread => ]
Re: [LUG] Re: Debian masterclass in Devon??
---
---


I found the installer for Debian 2.2r4 (x86) to be a royal pain.  The installer for 
3.0r2 (PPC), however, seemed beautifully simple.  Whether it is because I had become 
used to obscure installers by then (after having toyed around with various 
incarnations of Slackware and FreeBSD) I don't know.  I've not given Debian another 
chance on x86 yet though.  Perhaps I'll get some stuff from the Debian stand at LWE 
in a fortnight or so.  Still having problems getting the Mac to boot under it's own 
steam from the harddrive, but tbat's another story :p

I will probably not be coming as I've got lots of (*cough*, you didn't hear me say 
it) Microsoft courses on this next couple of weeks.  If anyone will be going to the 
LWE on the 7th, however, then I'll see you there.

-- 
Artificial intelligence is no match for nuratal stidutipy.

--
The Mailing List for the Devon & Cornwall LUG
Mail majordomo@xxxxxxxxxxxx with "unsubscribe list" in the
message body to unsubscribe.



---
Lynx friendly