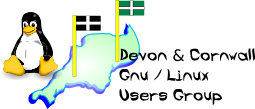 Devon & Cornwall Linux Users' Group
[ Date Index ][ Thread Index ]
[ <= Previous by date / thread ] [ Next by date / thread => ]
[LUG] Recommendations
---
---
Hi
I have a AMD 500 with 256 mb of memory and a 40gb and 10gb hdd (one of which can be removed), What I want is to set up a basic linux box, that I can keep down the rugby club for the season, so I can type stuff up, for example team sheets which I currently do under MS publisher however I am going to investigate using the DTP package that comes with Linux Suse 9.1 so if I can find somethign that will do the same job, essentially a document in landscape and the use of text frames and picture frames is all i really need, as long as it prints I can photocopy.
The system has a geforce4 graphics card., Dlink 530tx network card, a cdrom and cd rw drive.
The system will be stand alone, and not connected to the internet or a network. I want to set up a number of account on for myself, one for the physio and one for the other physio that come down, Ideally they will be able to use kmail to send messages to each other as they are not always down on the same day. So if one is down on tuesday he / she can leave an e-mail with any notes for whoever comes down on the thursday, etc. The idea being to aid communication between our two physios (I think the other physio is actually an osteopath or something not sure), either way, they both administer treatment to players.
Also I have access to software such as kwrite, open office etc., Again ideally while they have separate accounts, it would be nice for them to share a folder. which I take it I can create a group called for example physio, and a folder under say /home/physio and then add both users to this group so they can share any files in this folder with each other, while keeping their own files private.
I would be grateful for some recommendations regarding the e-mail set up at least, I am hoping to get away with just using the 10gb hdd, as the 40gb is a nice size for other things and I may have another system heading my way shortly,
Other uses for this system will include
Management of digicam photos, as I can then take the photos off the camera before going home.
Use of korganiser so we can keep track of events / fixtures etc at the club, again ideally one of these files could be shared so everyone has access to say a file set up in organiser for fixtures etc. And general use really,
Hopefully i can get hold of a 2nd hand printer so if anything needs printing out I can do it at the club but if I need to take anythig home i can do.
I would like some recomendations on setting up the e-mail system, whether to use php squirrelmail or if to implement the standard sendmail solution, I deally sending e-mails will be as simple as
user@xxxxxxxx or something like that, so it's internal, I take it I can add .com to the end of a domain as user@xxxx seems incomplete, this will be a standalone system. The idea being a user logs in, and can quickly check / recieve mail etc.
Also ideally the users login name / password will be the same for the users login name / password for their e-mail, something that is very simple to set up, and changeable.
Has anyone done anything similar?
Paul
--
Software freedom day 28th August 2004
Free your mind, and you wallet, go open source.

--
The Mailing List for the Devon & Cornwall LUG
Mail majordomo@xxxxxxxxxxxx with "unsubscribe list" in the
message body to unsubscribe.
---
Lynx friendly