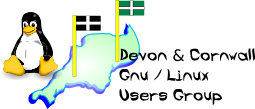 Devon & Cornwall Linux Users' Group
[ Date Index ][ Thread Index ]
[ <= Previous by date / thread ] [ Next by date / thread => ]
Re: [LUG] Evolution Migration to Thunderbird
---
---
Mark Evans wrote:

You could always use IMAP.

How would I do that? :) My ISPs/Domain Provider all use POP3 incoming SMTP outgoing. Or do you just mean use webmail and forget about a client on the machine?
Kind regards,
Julian
--
The Mailing List for the Devon & Cornwall LUG
Mail majordomo@xxxxxxxxxxxx with "unsubscribe list" in the
message body to unsubscribe.
---
Lynx friendly