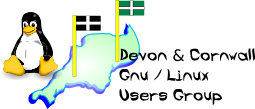 Devon & Cornwall Linux Users' Group
[ Date Index ][ Thread Index ]
[ <= Previous by date / thread ] [ Next by date / thread => ]
Re: [LUG] Help Please
---
---
On Wednesday 04 August 2004 18:35, Simon Waters wrote:


I'll do the easy ones....



Simon,

Thanks for the reply.  It looks as if WLAN is in the same state that modems 
were about 5/6 years ago i.e. "suck it and see"; although there is a lot more 
information available these days.

The Prism chip on 802.11g (D-Link) seems a fairly safe bet for the future,  
but I think I'll sit back for a while before diving in.


-- 
David Bell
Hatherleigh, Devon

A Linux user.



--
The Mailing List for the Devon & Cornwall LUG
Mail majordomo@xxxxxxxxxxxx with "unsubscribe list" in the
message body to unsubscribe.



---
Lynx friendly