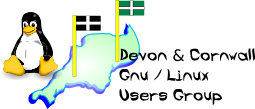 Devon & Cornwall Linux Users' Group
[ Date Index ][ Thread Index ]
[ <= Previous by date / thread ] [ Next by date / thread => ]
Re: [LUG] suse 9 problems.
---
---
I have 9.0 installed over 8.2 which was over 8.1 which had been a new 
install replacing 7.2 on my Dell Latitude laptop.

No (0) problems.

I do have to insmod rather than modprobe the pwcx.o compression driver for 
the webcam, but that is well-known behaviour.




-- 
Dr Adrian Midgley          I use Free software because it is better
http://www.defoam.net/    They carefully didn't ask.         

--
The Mailing List for the Devon & Cornwall LUG
Mail majordomo@xxxxxxxxxxxx with "unsubscribe list" in the
message body to unsubscribe.


---
Lynx friendly