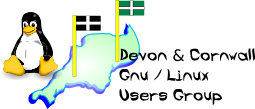 Devon & Cornwall Linux Users' Group
[ Date Index ][ Thread Index ]
[ <= Previous by date / thread ] [ Next by date / thread => ]
[LUG] Book suggestions
---
---
My brother is getting fed up with all the problems with Windows and is
thinking of moving to Linux.

He lives a long way from me so I can't just pop round to help him. He
would like to start by reading a Linux beginners' book, something for
someone who knows only Windows. 

Any suggestions for this would be appreciated.

TIA

Neil

--
The Mailing List for the Devon & Cornwall LUG
Mail majordomo@xxxxxxxxxxxx with "unsubscribe list" in the
message body to unsubscribe.


---
Lynx friendly