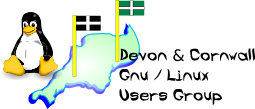 Devon & Cornwall Linux Users' Group
[ Date Index ][ Thread Index ]
[ <= Previous by date / thread ] [ Next by date / thread => ]
Re: [LUG] OT: CSS & HTML
---
---
On Friday 26 Sep 2003 12:03, Tony Atkin wrote:
> I would guess what you really need is a pointer to a good guide to
> designing web pages with CSS.  Unfortunately I can't think of a single
> excellent source.  My "bible" in all matters HTML is the O'Reilly book
> "Web Design in a Nutshell" - 2nd edition. After that
> http://www.w3.org/Style/CSS/ will get you a fairly comprehensive set of
> links to web-based resources.
>

Don't forget that we have a LUG book library :-)

David.


--
The Mailing List for the Devon & Cornwall LUG
Mail majordomo@xxxxxxxxxxxx with "unsubscribe list" in the
message body to unsubscribe.


---
Lynx friendly