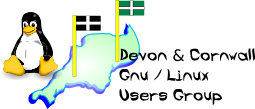 Devon & Cornwall Linux Users' Group
[ Date Index ][ Thread Index ]
[ <= Previous by date / thread ] [ Next by date / thread => ]
Re: [LUG] RH 9.x
---
---
Gemma Peter wrote:
I am also (barely) running RedHat 9 on a box with low specs Pentium 200MHz,
32MB RAM.
It is so slow (not a surprise) but it doesn't take more than 30 mins to log
in! I should probably have at least 128MB RAM but PC 66 is difficult to get
hold of, and it fried one of the chips I had. I just bought a new
motherboard anyway (I blagged the one I'm using at the moment) it is a
450MHz Pentium III, need to save up for some RAM though. Looking forward to
a decent speed box to experiment with.



Gemma,
You should be fine with PC100 or PC133 ram, plus you'll find it much easier to get hold of and cheaper too :)
- Dan
--
The Mailing List for the Devon & Cornwall LUG
Mail majordomo@xxxxxxxxxxxx with "unsubscribe list" in the
message body to unsubscribe.
---
Lynx friendly