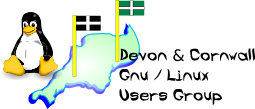 Devon & Cornwall Linux Users' Group
[ Date Index ][ Thread Index ]
[ <= Previous by date / thread ] [ Next by date / thread => ]
Re: [LUG] Unix file system folder limits
---
Subject: Re: [LUG] Unix file system folder limits
From: Steve Marvell <steve@xxxxxxxxxxxxxx>
Date: Sat, 22 Mar 2003 10:08:33 +0000
Content-disposition: inline
Reply-to: list@xxxxxxxxxxxx
---
On Fri, Mar 21, 2003 at 11:11:08PM +0000, Adrian Midgley wrote:

> static is more reliable than database.

and maintainable, and portable, ..

> and quicker.

Hell yeah.

Steve

--
The Mailing List for the Devon & Cornwall LUG
Mail majordomo@xxxxxxxxxxxx with "unsubscribe list" in the
message body to unsubscribe.


---
Lynx friendly