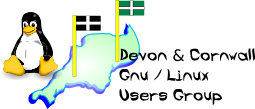 Devon & Cornwall Linux Users' Group
[ Date Index ][ Thread Index ]
[ <= Previous by date / thread ] [ Next by date / thread => ]
Re: [LUG] GnuPG and OE
---
---
-----BEGIN PGP SIGNED MESSAGE-----
Hash: SHA1

Peter J Ross wrote:
>
> Probably the best solution, if this is causing problems, is for me not
> to sign messages to this list, since I don't want to revert to inline
> signatures.

It's a well defined and long established Internet standard, I say sign
away. If people use e-mail clients that make it hard to read well formed
mail that is their problem.

It really is not our place here to allow for the inadequacies of
Microsoft software.

 Simon



-----BEGIN PGP SIGNATURE-----
Comment: Using GnuPG with Mozilla - http://enigmail.mozdev.org

iD8DBQE+bGZqGFXfHI9FVgYRAn5lAJ47mcG4NsOIWnaBefHFLO+smNqxvwCcCmEG
3fs2V7c8t6AuDTCedvBEaVk=
=YgzE
-----END PGP SIGNATURE-----

--
The Mailing List for the Devon & Cornwall LUG
Mail majordomo@xxxxxxxxxxxx with "unsubscribe list" in the
message body to unsubscribe.


---
Lynx friendly