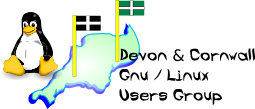 Devon & Cornwall Linux Users' Group
[ Date Index ][ Thread Index ]
[ <= Previous by date / thread ] [ Next by date / thread => ]
Re: [LUG] [Fwd: Student Linux User Group]
---
---
"May be a criminal offence" - is that lawyer speak for "isn't a
criminal offence, but you don't know that" ?



IANAL but it is probably actionable under civil law, at least in some 
circumstances.  At present.

It is no substitute for taking reasonable care, so choice of mail clients 
should be careful for those dealing with confidential material.

-- 
From one of the Linux desktops of Dr Adrian Midgley 
http://www.defoam.net/             

--
The Mailing List for the Devon & Cornwall LUG
Mail majordomo@xxxxxxxxxxxx with "unsubscribe list" in the
message body to unsubscribe.


---
Lynx friendly