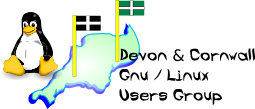 Devon & Cornwall Linux Users' Group
[ Date Index ][ Thread Index ]
[ <= Previous by date / thread ][ Next date => thread => ]
Re: [LUG] EMail Clients... and Netscape 6
---
---
On Friday 30 November 2001 5:32 pm, you wrote:
> I used to use, pegasus at uni.  outlook and outlook express when on the
> darkside. After I saw the light I used Netscape 4.75 cos it was the only
> email I could get to work.  Then I managed to work out what a Host name is
> and now use Kmail.  For a web browser I use Konquerer.
>
> As a Question,  I would like to know why I cannot use Netscape 6?  I have
> loaded it on to the machine, however there are no icons or anything to say
> 'Use Me' etc.  I loaded it in as root, hoping that all could use it ( I
> also tried this with Star Office 5.2 but that didnt work either) but
> nothing is visible.
>
> Any suggestions?
> JM

You need to make the links yourself on the user desktop. Right click the 
desktop and select Create New Link to Application. Enter the location of the 
netscape binary into the execute command box. Netscape 6 (installed as 
ordinary user) went into /usr/local/netscape on my system. However, I now use 
Mozilla which comes with Mandrake 8.1 as an rpm so I no longer have Netscape 
installed.


-- 

Neil Williams
=============
http://www.codehelp.co.uk
neil@xxxxxxxxxxxxxx
linux@xxxxxxxxxxxxxx
neil@xxxxxxxxxxxx


--
The Mailing List for the Devon & Cornwall LUG
Mail majordomo@xxxxxxxxxxxx with "unsubscribe list" in the
message body to unsubscribe.


---
Lynx friendly