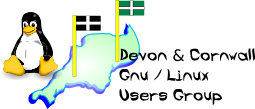 Devon & Cornwall Linux Users' Group
[ Date Index ][ Thread Index ]
[ <= Previous by date / thread ] [ Next by date / thread => ]
Re: [LUG] lpd dies
---
---
I had the lp daemon die mysteriously many times.  Apparently, once you have 
set up the printer one has to restart the daemon.  but that is on RH, who 
knows when it comes to SuSe??

Hope this helps
JM

On Thursday 29 November 2001  9:53 pm, you wrote:
> SuSE 7.2
> It is me, but I am not sure what it is that I have twice doen that has left
> me with a printing setup that requires root to enter "lpd" whereupon
> whatever print job is queued up is printed, and lpd then dies.
>
> If no print job is queued then lpd jsut dies.
>
> printer tcp bind address already in use
> is appearing in the X console
>
> Now, I sort of solved it by wirting a daemon to start lpd every 2 minutes,
> but that seems a really dumb way to go.
>
> WHat is really irritating is that I had it running at setup in both
> machiens, then later it went away.
>
> Hints please/

--
The Mailing List for the Devon & Cornwall LUG
Mail majordomo@xxxxxxxxxxxx with "unsubscribe list" in the
message body to unsubscribe.


---
Lynx friendly