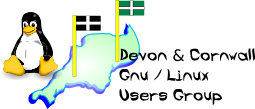 Devon & Cornwall Linux Users' Group
---
[
Date Prev
][
Date Next
][
Thread Prev
][
Thread Next
][
Date Index
][
Thread Index
]
Re: [LUG] Open source, GNU.
---
---

On Tue, 15 Aug 2000, Alex Charrett wrote:
> On Tue, 15 Aug 2000, Aaron Trevena wrote:
> 
> > if you are
> > Redhat the copyright code you have contributed you can charge whatever you
> > like for regardless of what its included with.
> 
> RedHat don't charge for GPL'ed software.  What you pay for in distribtions
> is documentation (ie manuals) and support.

If they do - they don't *have* to, the point of the GPL is to allow free
distribution not free (as in beer) software. I don't think I got any
support or manuals when I bought RH powertools so they probably do
charge,as they are entitled to, for their GPL code. Even if they only
changed a couple of lines (they do in fact write all the installer and
plenty of patches both on the kernel and things like XFree86 (at least
suse does the later so I assume most distros do)) they can charge for the
software according to the GNU GPL, the only thing they can't charge more
than costs for is distributing the source.

Essentially the GPL means that you can make a profit and so can anybody
who 'adds value' (by patching, documenting, supporting, etc), while it
remains freely distributal and available (in source form at least).

The only real problem with the GPL is that it is incompatible with the
BSD and some other licenses and that it requires GPLing of anything
linked (compiler sense) to it unless using the Lesser/Library GPL that
allows for non-GPL linking (compiler sense).

A.


-- 
<!-- betty  at  termisoc.org --><A HREF="http://termisoc.org/~betty">
####   hare krishna hare krishna  krishna krishna hare hare   ####



--
lug-list - The Mailing List for the Devon & Cornwall LUG
Mail majordomo at lists.termisoc.org with "unsubscribe lug-list" in the
message body to unsubscribe.


---
Lynx friendly