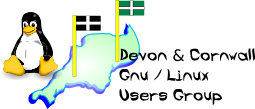 Devon & Cornwall Linux Users' Group
---
[
Date Prev
][
Date Next
][
Thread Prev
][
Thread Next
][
Date Index
][
Thread Index
]
[LUG] Flyer/runlevels
---
---

I have given the flyer to Paignton library and they should let me know if
they will put it up sometime next week.

In the meantime I am trying to compile a list of runlevels for the various
distributions a kind of 'one stop shop' if you like so one can look up for
their particular distribution or for just general reference. So far I have
slackware, suse and Redhat, and would be grateful for help/contributions, If
you send anything then I will give credit by putting names and e-mails of
contributors next to the part they sent. Thanks in advanced.



www.homestead.com/lonehacker/home.html

Click the Linux Hints button and my page will give you an idea of what I am
looking to do, there is some other stuff on the page.

----------------------------------------------------------------------------
---
> Paul said:
> > I would like to put a flyer in Paignton library let other users know
> > about the group.
>
> Yeah cool, gopher it - Since this LUf has been set up for about a month,
> theres only 6 members.  Be a pioner of the D&C LUG - Promote :)

--
lug-list - The Mailing List for the Devon & Cornwall LUG
Mail majordomo at lists.termisoc.org with "unsubscribe lug-list" in the
message body to unsubscribe.

---
Lynx friendly