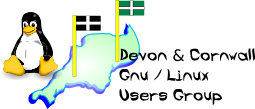 [ Date Index ] [ Thread Index ] [ <= Previous by date / thread ] [ Next by date / thread => ]
Re: [LUG] Plymouth LUG meeting tomorrow
To: Devon/Cornwall GNU LUG <list@xxxxxxxxxxxxx>
Subject: Re: [LUG] Plymouth LUG meeting tomorrow
From: Gordon Henderson via list <list@xxxxxxxxxxxxx>
Date: Sat, 25 Feb 2017 08:27:35 +0000 (GMT)
Delivered-to: dclug@xxxxxxxxxxxxxxxxxxxxx
Distribution: world
Dkim-signature: v=1; a=rsa-sha256; q=dns/txt; c=relaxed/relaxed; d=dclug.org.uk; s=1475831162; h=Sender:Content-Type:Content-Transfer-Encoding:Reply-To:From:List-Subscribe:List-Help:List-Post:List-Unsubscribe:List-Id:Subject:MIME-Version:References:Message-ID:In-Reply-To:To:Date; bh=o98nQIkTU3kY8ZVtF/LYfIqwhx0FEhKjOzGRSM84c9Q=; b=vfh5jPcUlmgD1O2KLWy00/zoHYj8Vc8EOCSsuOHwz5h8+xYKeKR4JiSiJfTdwIBLEIZ15ja66ApQ13gk3pw7ZBSDQMuRIVRZYe+uu3iiiUBXihB6Z+9vMcVyVUly407jmZ8AfdWgxiQIGD5Vd6dpmZY9T+AAfU/eG1sNmMdeHzE=;
---

On Fri, 24 Feb 2017, M. J. Everitt via list wrote:



Yup, aiming to be there to do some Arduino-related stuff .. gonna bring
a couple of my boards along, see what Gordon and I can come up with to
do ...

Er - confused now. I won't be going to the Plymouth meet today. No plans to go at all, just the Paignton one.


Gordon


--
The Mailing List for the Devon & Cornwall LUG
https://mailman.dclug.org.uk/listinfo/list
FAQ: http://www.dcglug.org.uk/listfaq

---