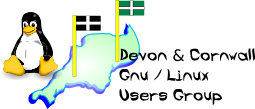 [ Date Index ] [ Thread Index ] [ <= Previous by date / thread ] [ Next by date / thread => ]
Re: [LUG] Cisco Linksys NSLU2 NAS AKA Slug
Subject: Re: [LUG] Cisco Linksys NSLU2 NAS AKA Slug
From: Tom <madtom1999@xxxxxxxxxxxxxx>
Date: Fri, 17 Jan 2014 14:24:16 +0000
Delivered-to: dclug@xxxxxxxxxxxxxxxxxxxxx
Dkim-signature: v=1; a=rsa-sha256; c=relaxed/relaxed; d=googlemail.com; s=20120113; h=message-id:date:from:user-agent:mime-version:to:subject:references :in-reply-to:content-type; bh=gyCcZwpZvRTLE57lm3Y151YGnkFBEWkkgdZa9erOOzE=; b=pbxrQ4kpraOhFVY0y5n80yZwE45lxrA+IzCdvMIyy72CCXb5FiaJehWpOSbzeKsODK GhlHpKR3zM1s+0D7tymZGeSIPsH6hbDJoqcezihVF1lZ5B1NOsmtTcWOCIY5tgZ0C1MK M9I7xXTW7PpSqyYGubDAF/AZuz4Pte6JFj/mS7fs2EWgutGv7YYkWIHZejwyLplIQ0iQ EVzq8bk224K4rDTb8O+thrjCq8vHa1uSrQk5cKkcz6MqCQm76Kv4Alfrw79hCizFszZS FZepco7mAMlAucGtYwPWr17f7xacp2zmCHx2lsthhh71y36aMRkobUo6jXAYiYnmg2n1 6B2A==
---
On 17/01/14 12:07, Tremayne, Steve wrote:

Has anyone had much joy in putting Linux on the "slug"? (A Cisco / Linksys NAS device)

I do have various old PCs lying around, but I'm looking for something that doesn't have a 500W PSU running 24/7…

Either that, or has anyone got other NAS hardware running (i.e. QNAP / Synology / etc) with Linux / FreeNAS / OpenMediaVault / etc?




Last time I checked PSU's were moderately efficient - ie if you've got 50W of hardware running inside your probably not using much more than 60W - best to check if its a problem.
Tom te tom te tom

-- 
The Mailing List for the Devon & Cornwall LUG
http://mailman.dclug.org.uk/listinfo/list
FAQ: http://www.dcglug.org.uk/listfaq

---