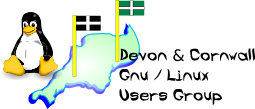 [ Date Index ] [ Thread Index ] [ <= Previous by date / thread ] [ Next by date / thread => ]
[LUG] rsync and file transfers
Subject: [LUG] rsync and file transfers
From: David Vanstone <vanstone.david@xxxxxxxxxxxxxx>
Date: Thu, 18 Nov 2010 23:09:15 +0000
Delivered-to: dclug@xxxxxxxxxxxxxxxxxxxxx
Dkim-signature: v=1; a=rsa-sha256; c=relaxed/relaxed; d=googlemail.com; s=gamma; h=domainkey-signature:received:received:message-id:date:from :user-agent:mime-version:to:subject:content-type :content-transfer-encoding; bh=0ER9A+tMgsGVBEuxHq91zNrxPKa+Gg9Mkn3zUHwGtdk=; b=egcAOzohsb+e1xlCPKj9+9kBWDbwpmhx3I+2jkvgagk1jhD62EzNm+JeMKc8y1tQv8 q+w6eW1f4ffQyrRGhzovd3pvu46GJ85j0/msPDWAPtCp+vph6RwC/pDBwRWinru1KSBG UxQnCd1V1TxL8pkRm1vFLGPHKLgIWf362nxpY=
---

Hey there


I have a problem I can't really work out how to solve. I'll try to explain as best as possible.
Basically I have a server (in one house) and a client computer (in a separate house)
What I want to be able to do is - Plug USB Hard drive into server computer, make it send any news files since the last time it was plugged in from a certain folder on the server to the USB HDD.
Then take the USB HDD to the client PC plug it in and all the new files off the USB Drive, copy them to a folder on the client PC then delete all files off the USB Hard drive.
I'd like it to do this automatically so its literally just plug the drive in and away it goes. We are talking 1 terrabyte+ so need the USB HDD to empty after each transfer and hold some sort of log file that the server will query, so that it doesnt transfer all the files again, only new ones from that differ from the last transfer. rsync would work great on this if i didnt need to keep the USB HDD empty, unless any of you know a way of doing it?


Any ideas would be a great help!

Many Thanks,
Dave

--
The Mailing List for the Devon & Cornwall LUG
http://mailman.dclug.org.uk/listinfo/list
FAQ: http://www.dcglug.org.uk/listfaq


---