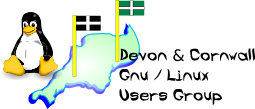 [ Date Index ] [ Thread Index ] [ <= Previous by date / thread ] [ Next by date / thread => ]
Re: [LUG] Holsworthy meeting
Subject: Re: [LUG] Holsworthy meeting
From: David Vanstone <vanstone.david@xxxxxxxxxxxxxx>
Date: Sat, 18 Sep 2010 18:30:29 +0100
Delivered-to: dclug@xxxxxxxxxxxxxxxxxxxxx
Dkim-signature: v=1; a=rsa-sha256; c=relaxed/relaxed; d=googlemail.com; s=gamma; h=domainkey-signature:received:received:message-id:date:from :user-agent:mime-version:to:subject:references:in-reply-to :content-type:content-transfer-encoding; bh=JToDEsmYKQDBaMyBNQ++4ZSXNKiSIJe0qPwDtpBFiEQ=; b=h/ax5bR8oWLyroH7Nyer0WAUeOSGPKF4qAChNSuwZqbLncHpV7Sctu6bItd00S69GR VFcD/EirdMrhlayxA0A8z77udkGn+Uj/2BAVOvdVGWyn9R7dfcGjXzo0mNwu8QhvrFwG sHHc5axCwv5XLFifc4ki5JNx2c9IV6Cs3ZoeQ=
---

Roland Tarver wrote:


On Sat, Sep 18, 2010 at 8:09 AM, David Vanstone
<vanstone.david@xxxxxxxxxxxxxx> wrote:



Roland Tarver wrote:



On Fri, Sep 17, 2010 at 10:40 PM, David Vanstone
<vanstone.david@xxxxxxxxxxxxxx> wrote:




John wrote:




On Tue, 2010-09-14 at 18:42 +0100, David Vanstone wrote:





Neil Winchurst wrote:





Just a reminder that we are due to have another Linux group meeting in
Holsworthy next Saturday. Look forward to seeing more this time.

White Hart at 2 pm.

Neil






25th? will hopefully be there, first one for me :)






Not the 25th, the 18th is the next Saturday.
Please don't wish us any closer to Christmas than we are!






Aaaah, think im gonna be pushed for tomorrow!! Too much work on here is
Ashburton and in Holsworthy!  Still, im gonna try my hardest to get
there!

Dave




Buckfastleigh on Oct 2nd is closer than Holsworthy if you fancy it?

Roly





:) that sounds a bit more friendly! i will speak to my boss in a bit see if
i can get some of today off, would love to be there. Besides i owe Jon at
white hart a drink, it was his bday earlier in the week so it'd only be fair
to come along! lol

--
The Mailing List for the Devon & Cornwall LUG
http://mailman.dclug.org.uk/listinfo/list
FAQ: http://www.dcglug.org.uk/listfaq





Cool. See previous mails for the details. :-)
Roly


Brilliant day! good to put some faces to names! New people too! Jamie enjoyed the meet too. Shame about the wifi but there are reasons. I popped in to see Matt at orakle to get some more rj45s and to ask about it, the result was that he has it disabled for security. The trouble is that the particular AP we were trying to connect to was on the same network as all the tills and therefore Matt didnt want people on it. He will (if jon wants him to) setup a vlan for public access in future.


Anyway was good a good day!



Dave

--
The Mailing List for the Devon & Cornwall LUG
http://mailman.dclug.org.uk/listinfo/list
FAQ: http://www.dcglug.org.uk/listfaq


---