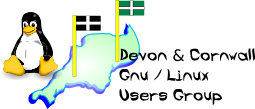 [ Date Index ] [ Thread Index ] [ <= Previous by date / thread ] [ Next by date / thread => ]
Re: [LUG] OT: Firefox 3.6.6 and BBC iPlayer
---

On Mon, 28 Jun 2010, Julian Hall wrote:



Hi All,



The short version: Firefox 3.6.6 doesn't like the original BBC iPlayer, but it does work with the Beta version on the website. I should say this occurred on Windows 7 64bit, but as it's a browser not OS issue I thought I'd mention it here :)





The long version: My laptop battery died when I was downloading a Doctor Who episode, so I decided to do it on the desktop.





Clicking on the episode on the desktop just got a blank frame with 'Done' instead of the usual starting frame with the 'Play' icon over it. I thought this was something to do with my IP address being locked out because of the failed download, but then tried it in Safari and it seemed OK. Also I subsequently completed it on the laptop and the desktop still wouldn't play ball with any programmes.



Uninstalled iPlayer and reinstalled - same problem.



Finally I uninstalled, rebooted, then installed the Beta version. That worked perfectly.





That strongly suggests to me that something in the latest Firefox update doesn't like the older iPlayer but it fine with the new beta.


Good job I don't have windows then...


Got the update notification to 3.6.6 this morning (what happened to .5?), updated it and it's going fine. Plays bbc iPlayer via the web interface OK - although still not full screen smoothely... but then get_iplayer & mplayer does that very nicely...


Gordon


--
The Mailing List for the Devon & Cornwall LUG
http://mailman.dclug.org.uk/listinfo/list
FAQ: http://www.dcglug.org.uk/linux_adm/list-faq.html


---