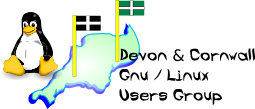 [ Date Index ] [ Thread Index ] [ <= Previous by date / thread ] [ Next by date / thread => ]
Re: [LUG] Recipes
---

Quoting Neil Winchurst <barnaby@xxxxxxxxxx>:



Matthew Macdonald-Wallace wrote:



I keep meaning to write one of these myself that would allow you to
select a number recipes and then hand off to your favourite
supermarket's API to purchase the ingredients or (if you're like me)
print off a shopping list to take to the butchers/greengrocers etc.

Maybe that's a project to keep me occupied over the next couple of
months whilst I look at DJango/Rails/Cake...

M.



Sounds interesting. There are already several recipe programs to run on
the HD. One I have looked at is Krecipes. If you ever do decide to do
one, may I suggest that it should be a web program to run from a
browser? It seems that there is not one of those yet available.



Sorry, yeah, should have made that clear.

It would run as a PHP/MySQL or similar app.

M.

--
Matthew Macdonald-Wallace
matthew@xxxxxxxxxxxxxxxxxxxxx
http://www.truthisfreedom.org.uk/

--
The Mailing List for the Devon & Cornwall LUG
http://mailman.dclug.org.uk/listinfo/list
FAQ: http://www.dcglug.org.uk/linux_adm/list-faq.html


---