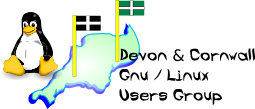 [ Date Index ] [ Thread Index ] [ <= Previous by date / thread ] [ Next by date / thread => ]
Re: [LUG] Software RAID-1 on USB drives
Subject: Re: [LUG] Software RAID-1 on USB drives
From: Gordon Henderson <gordon+dcglug@xxxxxxxxxx>
Date: Wed, 21 Oct 2009 12:17:37 +0100 (BST)
Distribution: world
---

On Wed, 21 Oct 2009, Grant Sewell wrote:



On Wed, 21 Oct 2009 10:43:44 +0100 (BST)
Gordon Henderson wrote:




On Wed, 21 Oct 2009, Grant Sewell wrote:




What's going on is this - we have a Windows SBS 2008 virtual machine
running inside VMWare ESXi.  VMWare ESXi is an interesting product
but lacks the ability to show physically attached USB drives to any
of the guest OSes. The original plan was for SBS 2008 to backup to
the USB drives in-turn, so Monday would be on Disk 1, Tuesday on
Disk 2, Wednesday on Disk 1, etc, etc.  Installing SBS 2008 inside
VMWare ESXi, however, put the kybosh on that plan.

So now we have the SBS 2008 machine performing regular backups over
the network to my machine which is setup to share USB Disk 1 with
SAMBA. Since the only things that was mandatory was that one of the
disks be taken off-site every night, I decided that Disk 1 should
be the primary backup drive and Disk 2 should be a duplicate of it
that can be taken off-site every night.




OK... Now, I know little of VMware, and it's like. but couldn't the
VMWare host be the one running samba, and it mount the USB drives -
with the windows VM seeing the samba share via the "network"
connection between the VM and the host?




That would be very nice, but not an option (yet).  VMWare ESXi is just
like ESX, except that they seem to have taken out the majority of the
useful features.  It is essentially a hypervisor without a proper
controlling system.  I have enabled SSH access to it so I can see
what's going on and modify what I need to, but it is very limited.

When a USB drive is plugged in, it registers as a device fine... but
there's no way to mount the filesystem on there.  There is no in-built
SAMBA and, call me lazy if you like, I don't particularly want to spend
a vast amount of time trying to get SAMBA to compile on another machine
so I can transfer it over to the ESXi Hypervisor system so I can share
devices which I can't access anyway.

Er, OK. So you're running SBS in a VMWare thingy which is running on-top of Linux, running on x86 hardware.
Why aren't you running SBS natively on the hardware without the Linux bit in the middle?


I'm sure there's a good reason though... (e.g. running more than one SBS
server and saving hardware?)

Gordon

--
The Mailing List for the Devon & Cornwall LUG
http://mailman.dclug.org.uk/listinfo/list
FAQ: http://www.dcglug.org.uk/linux_adm/list-faq.html




---