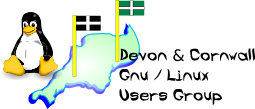 [ Date Index ] [ Thread Index ] [ <= Previous by date / thread ] [ Next by date / thread => ]
Re: [LUG] Intel and Transgaming to bring games to TV
Subject: Re: [LUG] Intel and Transgaming to bring games to TV
From: Rob Beard <rob@xxxxxxxxxxxxx>
Date: Tue, 29 Sep 2009 15:57:22 +0100
---

Terry Hill wrote:


So maybe, this might mean that if games developers work with Transgaming, it
may mean that ports of more Windows games are finally available on Linux
which in turn would resolve one of the excuses of Windows folks - Linux
won't support games.




I hope this is the case too - as for many it isn't an excuse - it's a
reason.  I still run windows at home despite bashing on about linux
till im blue in the face.  The mrs plays world of warcraft.  I
convinced her to let me install Linux and get it running with wine.  I
got it going.  The graphics looked weird.  I sorted out the weirdness,
and all seemed fine.  A day or two later she was on a quest that
required clicking on a particular object.  The object would not
respond.  Didn't matter how we tried it, it didnt work.  No errors, no
graphics glitches, nothing.  It just didnt respond.  We logged out,
logged in a few times, everything else worked.  Not that bloody quest.
 In the end she booted up windows on a lappy and it worked first time.
  So ended my attempt to get the family using Linux.


Yeah I know a few people who like World Of Warcraft who would get withdrawal symptoms if they didn't get their fix.
Personally I tend to play games on consoles (Wii, DS, XBOX 360, PS2) as I can't keep up with the regular hardware upgrades to run the latest games, but I could see a benefit to help the community.
I'm guessing that Transgaming are trying to get the developers to provide support in the games, so I guess it would involve maybe making a build of the source code for the Transgaming platform, which I dare say could be easily run on Linux (I wouldn't be surprised if the system they use is based on some Linux distro like Moblin is). Now if doing this means that the games companies can provide Linux versions of their games, even on the same disc then that's git to be good for gamers who use Linux (or even hard core gamers who would possibly switch to Linux if they could play their favourite games on there).
Of course it's not as good as releasing the game sources under the GPL, but I would guess that not many companies would do that (okay, ID software did with Doom, Quake etc which was a good thing), but it's certainly a way of increasing market share (might make conversion to Mac easier too).

Now I *like* Linux.  I want to run Linux.  But all the PC's here are
shared, and I don't want to go through a restart to dual boot every
time I swap pc's with one of the others.

If you happen to have one PC to yourself you could install FreeNX and connect to it using the NX client for Windows. Although it's not as quick as running Linux on the local machine, it's still pretty quick (it's a bit like running Remote Desktop on a Windows PC). Otherwise, I believe there is a Linux implementation of Remote Desktop (RDP) which is compatible with the Windows Remote Desktop viewer.


Rob

--
The Mailing List for the Devon & Cornwall LUG
http://mailman.dclug.org.uk/listinfo/list
FAQ: http://www.dcglug.org.uk/linux_adm/list-faq.html




---