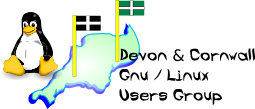 [ Date Index ] [ Thread Index ] [ <= Previous by date / thread ] [ Next by date / thread => ]
Re: [LUG] Pentium 100 laptop
Subject: Re: [LUG] Pentium 100 laptop
From: "Steven Cote" <steven.cote@xxxxxxxxx>
Date: Thu, 10 Jan 2008 09:38:58 +0000
---
I am the proud owner of a Toshiba Pentium 100 laptop without CD drive or USB. I am pondering how best to install a Linux distro such as DSL or Puppy.
If any of you have tried such a installation I would be pleased to learn how it was done.



Does it have a floppy drive? If that's the case, then you'll need to find a distro that has boot floppy images. I had a quick look at the DSL and Puppy pages, and didn't see any such thing, but I didn't look very hard.

Back in the day when this sort of hardware was standard, you installed linux by booting with a floppy disk and then depending on the type of install, either loaded more floppies or installed over the network. I think the hardest part will be finding a distro that still has boot floppies.

Further poking about uncovered this:
http://damnsmalllinux.org/network-install.html

That sounds like your best bet. This of course all assumes you have a floppy and network device.

-- 
The Mailing List for the Devon & Cornwall LUG
http://mailman.dclug.org.uk/listinfo/list
FAQ: http://www.dcglug.org.uk/linux_adm/list-faq.html

---