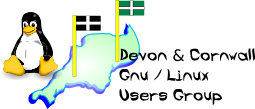 [ Date Index ] [ Thread Index ] [ <= Previous by date / thread ] [ Next by date / thread => ]
Re: [LUG] [Fwd: Need help Mandriva]
Subject: Re: [LUG] [Fwd: Need help Mandriva]
From: Simon Waters <simon@xxxxxxxxxxxxxx>
Date: Tue, 02 Jan 2007 08:23:59 +0000
Openpgp: id=8F455606
---
>> From: Robert MacCurrach <rob@xxxxxxxx>

> I have a copy of Mandriva 2007 and could help if you would like to pass this 
> on.  RM could then contact me off list.

Cheers,

I forwarded it on, but I don't have better contact details than the
email address in the post.


Attachment: signature.asc
Description: OpenPGP digital signature
-- 
The Mailing List for the Devon & Cornwall LUG
http://mailman.dclug.org.uk/listinfo/list
FAQ: http://www.dcglug.org.uk/linux_adm/list-faq.html

---